EGCO Group posts over THB2.8 billion profit for Q3/2020 energy-related business added to its power plant portfolio
12 November 2020
Electricity Generating Public Company Limited or EGCO Group reported satisfactory growth in the third quarter of 2020 with slight improvement over the second quarter contributed by growth of overseas large-scale power plant. The Company also announced solid progress in investment in energy-related businesses, including fuel and other infrastructure and Smart Energy Solution for sustainable growth.
Mr. Thepparat Theppitak, EGCO Group's President, said, "For Q3/2020 ending 30 September 2020, EGCO Group posted operating profit (not including the effects of foreign exchange rate, deferred income tax, impairment, financial instruments and lease income) of 2,839 million baht, an increase of 275 million baht or 11% compared to Q3/2019. The improvement was contributed by growing performance of large-scale power plants, including Xayaburi hydropower plant, Paju power plant, San Buenaventura power plant and Quezon power plant. When considering the first 9-month performance, EGCO Group booked 7,641 million baht operating profit, a decrease of 432 million baht when compared to the same period last year. Despite the demand for electricity in many countries tends to decrease due to the COVID-19 pandemic."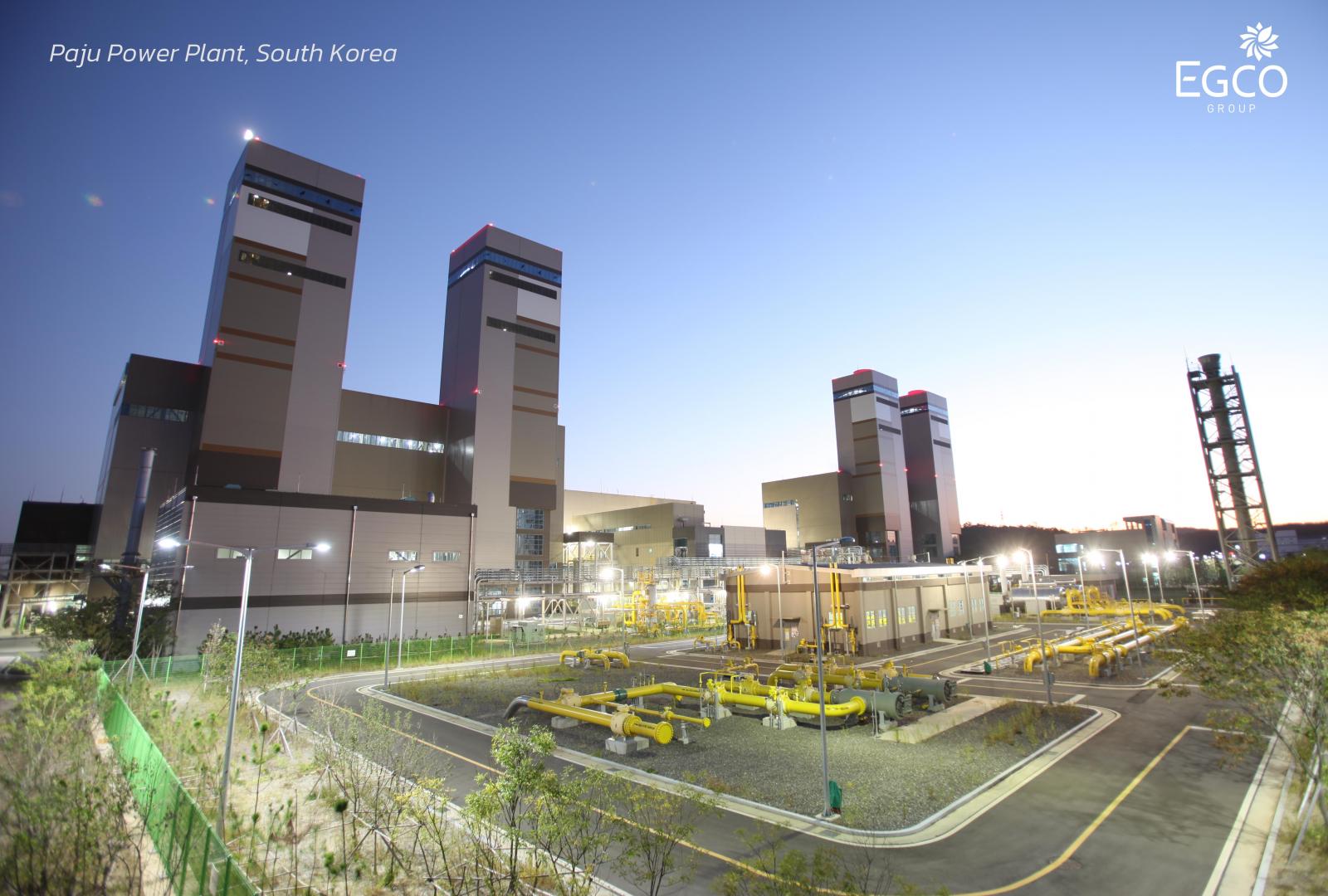 In the third quarter of 2020 up until now, EGCO Group has enjoyed continuous business growth. The 19.8 MW Gangdong fuel cell power plant in South Korea has start commercial operation and transmit electricity to the grid since 1 October 2020. The power plant will start to recognize its revenue in Q4/2020. In addition, EGCO Group has cooperated with EGAT Group, namely EGAT International Co., Ltd and RATCH Group PCL. by signing the Joint Development Agreement (JDA) on 16 September 2020 to develop the 1,320-MW Quang Tri 1 thermal power plant in Vietnam. The Company also signed a 7,800 million baht loan agreement to fund the development and the construction of the extension of petroleum pipeline system to northeastern region project on 21 September 2020.
Projects under construction: At present, EGCO Group has three projects under construction, all of which has satisfactory progress. Two of them are power plants. The "Yunlin" offshore windfarm in Taiwan is 61% completed and expected to start commercial operation in Q3/2021. The "Nam Theun 1" hydropower project in Lao PDR is 78% completed and expected to start commercial production in Q2/2022. The remaining project is energy related business – the expansion of oil pipeline to the northeastern region of Thailand, which is 43% completed and is expected to begin to operate in Q4/2021.
Projects under development: Mr. Thepparat added, "EGCO Group is strongly committed to expanding both our power generation and energy service businesses to also cover power generation business which remains our core business. This includes power plants fueled by fossil and renewable energy in Thailand and overseas. Meanwhile, we are looking for opportunity to invest in energy-related business, such as fuel and infrastructure business. The Company has prepared for applying with the Energy Regulatory Commission for LNG shipper license. The Company plans to import approximately 200,000 tons/year of LNG for fueling its own power plants. This will significantly reduce fuel costs while increasing competitiveness."
Its investment in the Smart Energy Solution business, which makes EGCO Group a comprehensive energy innovation provider, has also made good progress. The "EGCO Rayong Industrial Estate" project has already passed Environment Impact Assessment (EIA) and received an approval from the Industrial Estate Authority of Thailand (IEAT) for establishment as a Smart Industrial Estate. The project covers an area of 600 rai in Muang district, Rayong province. For the next step, EGCO Group will sign an agreement with IEAT. It is expected that the area preparation and infrastructure system development will take two years to complete. The project is scheduled for opening in 2022. In addition, EGCO Group is developing the "Solar Solution Provider" project to offer comprehensive premium solar cell system and products. The target customers will be industrial customers and commercial building owners.
"As a newly appointed CEO, I am looking at creating value and boosting continuous growth for EGCO Group. Our strength and capability will be utilized to support our investment in electricity generating and energy-related businesses. Meanwhile, we will look for an opportunity to expand our business into fuel and infrastructure services. This is a significant move to nurture our continuous and sustainable growth against the backdrop of existing highly-competitive economic situation and electricity industries," said Mr. Thepparat.
About EGCO Group
As of 31 October 2020, EGCO Group has a total equity contracted capacity of 5,479 MW. This includes 28 commercially operating power plants in Thailand and overseas, with total equity contracted capacity of 5,428 MW, and 2 power projects under construction representing total equity contracted capacity of 321 MW. EGCO Group's power plants use various fuel sources, including natural gas, LNG, coal, biomass, hydropower, solar power, wind power, geothermal power and fuel cells. These power plants are located in 7 countries, namely Thailand, Lao PDR, Philippines, Indonesia, Australia, South Korea and Taiwan.